Title:
Lucky Caller
Release Date: January 14, 2020
Acquired: Edelweiss Approved
With the warmth, wit, intimate friendships, and heart-melting romance she brings to all her books, Emma Mills crafts a story about believing in yourself, owning your mistakes, and trusting in human connection in Lucky Caller.

When Nina decides to take a radio broadcasting class her senior year, she expects it to be a walk in the park. Instead, it's a complete disaster.

The members of Nina's haphazardly formed radio team have approximately nothing in common. And to maximize the awkwardness her group includes Jamie, a childhood friend she'd hoped to basically avoid for the rest of her life.

The show is a mess, internet rumors threaten to bring the wrath of two fandoms down on their heads, and to top it all off Nina's family is on the brink of some major upheaval.

Everything feels like it's spiraling out of control―but maybe control is overrated?


I'm trying to figure out if my first delve into Emma Mills' work should have been with her latest book. The year 2019 had me hearing, reading and seeing literally nothing but shining praise for her backlist titles, so much so, that I added a couple of them to a Black Friday book purchase in anticipation of checking them out.
But I didn't, and I chose to read this one first, and I'm sad to admit that there was a lot I didn't like about it, but there were definitely aspects that warmed the very depths of my winter-affected soul.
Lucky Caller
opens as a major family moment for Nina is interrupted, and we are immediately introduced to the second main character, Jamie, with whom Nina has a seemingly tension-filled history. Skip to the first days back at school, where both Nina and Jamie (uh-oh) are in a radio broadcasting class together. Their semester project is to form a team of four, come up with a radio show name, and start broadcasting live shows for the student body, and the public, from the school's in-house studio. Fate would have it that Nina and Jamie end up in the same group (duh), along with Sasha (volleyball team member), and Joydeep (class goof). Between her home life, her awkward relationship with Jamie, and the radio show, Nina is overwhelmed, to say the least. But everything will work out without her having to do anything to fix it, right?
This was a super quick read, with very surface-level dilemmas. What I appreciated more than I can ever thank Mills for was her inclusion of different ethnicities with her characters. Sasha was a strong black female and Joydeep (I love, LOVE that she gave him an East Indian name) was reminiscent of so many of the boys I remember from my own high school, where it was predominately populated by people of colour. It was these secondary characters that kept me reading, and most importantly, laughing! The dialogue was witty and the comedic bits had near-perfect timing. I wish I could say that these sentiments extended to the main characters but I, unfortunately, found Nina to be insufferable, and Jamie way too perfect. At times I had to remind myself that Nina was a senior, she read like a much younger and childish teen.
The heartwarming bits came at the end, and I'll admit that I smiled the whole way through. It was here that I found it easy to imagine why others have found a favourite in Mills' backlist work, and I'll hopefully be joining that camp soon.


Read if you like:
T
o All the Boys I've Loved Before
by Jenny Han
10 Blind Dates
by Ashley Elston
Sarah Dessen
Morgan Maston
Rainbow Rowell
Key themes:
family, friendship, love
Challenges: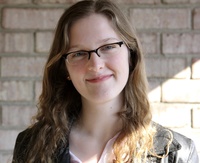 credit: goodreads.com (author page)
Emma Mills is the author of

First & Then

,

This Adventure Ends

,

Foolish Hearts

,

Famous in a Small Town

, and

Lucky Caller

. She lives in St. Louis, and has recently completed a Ph.D. in cell biology.