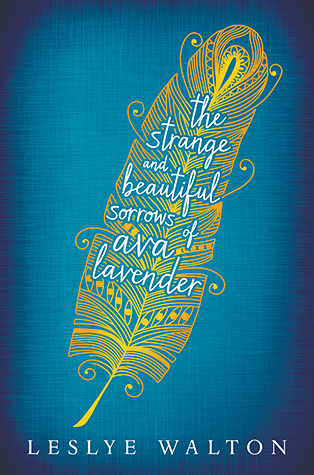 Magical realism, lyrical prose, and the pain and passion of human love haunt this hypnotic generational saga.

Foolish love appears to be the Roux family birthright, an ominous forecast for its most recent progeny, Ava Lavender. Ava—in all other ways a normal girl—is born with the wings of a bird.

In a quest to understand her peculiar disposition and a growing desire to fit in with her peers, sixteen-year old Ava ventures into the wider world, ill-prepared for what she might discover and naïve to the twisted motives of others. Others like the pious Nathaniel Sorrows, who mistakes Ava for an angel and whose obsession with her grows until the night of the Summer Solstice celebration.

That night, the skies open up, rain and feathers fill the air, and Ava's quest and her family's saga build to a devastating crescendo.

First-time author Leslye Walton has constructed a layered and unforgettable mythology of what it means to be born with hearts that are tragically, exquisitely human.
------------------------------------------------------------------------------------------------------------------------------------------------
I want to let you know, first of all, that every word I write of this
review is loaded. It is filled with emotion so strong that I wasn't sure I would be able to write this at all. I want to let you know that this book, this disturbingly beautiful, haunting, book, it changed the shape of my heart. It held it and squeezed it so firmly that I am convinced that it no longer resembles anything familiar. I want you to know that I need to refrain from using words that aren't even words-I want to make up words that could possibly mean MORE. I want to sit still and convey my emotions to you telepathically, because my GOD, these words aren't going to be enough.
The Strange and Beautiful Sorrows of Ava Lavender
is, without a doubt, the best YA book I've read in 2014. It was brave and completely unexpected. I loved that the title misled you into thinking this book was only about Ava. Because it wasn't, it was a heart beating louder than anything I've ever heard. It was the unraveling of three generations, beginning with Ava's grandmother, to her mother, to finally, Ava's own tale of happiness and woe. Leslye Walton needs to be allowed to do nothing else but eat, and write books. To be mildly cliche, I drowned in her words. I felt the atmosphere she created like a thick fog around my head-I have never yearned so badly to literally step foot into a narrative. Walton's words were magnets for emotion and painted the most vivid scenes. Each jump in the timeline was written seamlessly, but with the clearest indication of change. You existed separately with each woman and felt their stories right down to your bones. When each storyline finally became one with Ava's, I was determined to never finish this book, not because I began to dislike it, but because I was sure I would never love written words so strongly again.
This book was a marvel, and something I will never forget to remember. You will be doing yourself a horrible injustice if you don't eventually read
The Strange and Beautiful Sorrows of Ava Lavender
.
A horrible injustice.
The Lovely Bones
by Alice Seabold
historical fiction, controversial issues, magic realism
------------------------------------------------------------------------------------------------------------------------------------------------