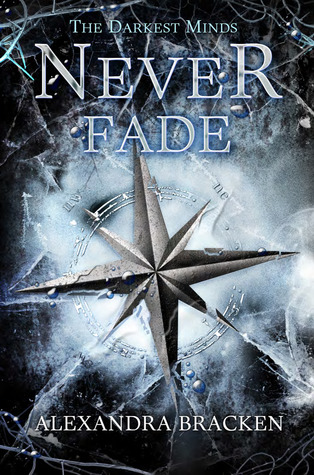 Ruby never asked for the abilities that almost cost her her life. Now she must call upon them on a daily basis, leading dangerous missions to bring down a corrupt government and breaking into the minds of her enemies. Other kids in the Children's League call Ruby "Leader", but she knows what she really is: a monster.

When Ruby is entrusted with an explosive secret, she must embark on her most dangerous mission yet: leaving the Children's League behind. Crucial information about the disease that killed most of America's children—and turned Ruby and the others who lived into feared and hated outcasts—has survived every attempt to destroy it. But the truth is only saved in one place: a flashdrive in the hands of Liam Stewart, the boy Ruby once believed was her future—and who now wouldn't recognize her.

As Ruby sets out across a desperate, lawless country to find Liam—and answers about the catastrophe that has ripped both her life and America apart—she is torn between old friends and the promise she made to serve the League. Ruby will do anything to protect the people she loves. But what if winning the war means losing herself?
-------------------------------------------------------------------------------------------------------------------------------
*SLIGHT SPOILERS AHEAD*
If the last 80 or so pages didn't save the heck out of this sequel, I would be writing a 3-star review right now. Never Fade was a lot more action, with a lot less feeling. I lost my connection to the main lead, and handed my heart over to some new side characters. I suppose it's like this, sometimes, with middle children/books, the ways in which it gets lost in the mix, and Never Fade kind of did that. But to reiterate, the last portion of this book brought me RIGHT BACK, and not a moment too soon.
After the heart clenching conclusion of The Darkest Minds, I wasn't sure where I would find Ruby at the beginning of this second book. Where I did find her, working for the Children's League, was a reality that I found endlessly irritating. There was just too much time spent in that setting-time spent describing it, and emphasizing the details of the "Ops" that different teams of kids + agents were sent on. I felt left out, to be honest. I felt like Ruby went off and started this whole other life that we were never going to fully understand-almost as though there should have been another book between this one and the first. But alas, that fault is trivial, simply because if the league was not introduced, I would not have met my beloved Jude and the take her, or leave her, Vida. They both took some serious time to grow on me, but by the time it mattered, they had entered the folds of my heart.
It was a pleasure to witness the advancements of Ruby's powers in Never Fade-her more controlled and calculated movements. I grew slightly tiresome at her constant regret of using her powers to an extreme degree, and after a specific scene between her and Vida, I prayed that her whining would cease-which it did, for the most part. We were also treated to a different side of familiar characters, namely Chubs and Liam-it was growth/development in the right direction, and I thought Alexandra Bracken handled it fantastically.
Your heart will experience moments of stop-and-go nearing the conclusion of this installment. It's when all of the bombs are dropped, literally and figuratively, and you remember why you got on this ride to begin with. Bracken's writing was still as hard-hitting, and emotionally draining, in the best way possible. There is absolutely no doubt in my mind that the third and final book will blow the remaining parts of my mind to pieces. I.cannot.WAIT.
Recommended for fans of: YA Fiction, Sci-Fi, Dystopian, The Hunger Games Trilogy, The Divergent Trilogy.
-------------------------------------------------------------------------------------------------------------------------------