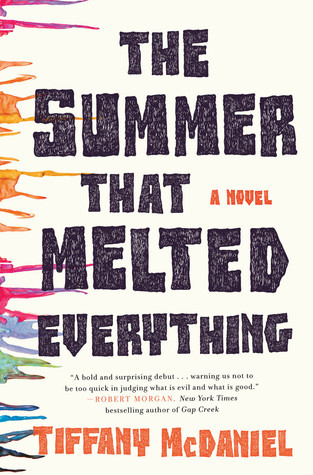 Title:
The Summer that Melted Everything
Release Date: July 26/2016
Acquired: Kindle copy sent by publisher
Fielding Bliss has never forgotten the summer of 1984: the year a heat wave scorched Breathed, Ohio. The year he became friends with the devil.

Sal seems to appear out of nowhere - a bruised and tattered thirteen-year-old boy claiming to be the devil himself answering an invitation. Fielding Bliss, the son of a local prosecutor, brings him home where he's welcomed into the Bliss family, assuming he's a runaway from a nearby farm town.

When word spreads that the devil has come to Breathed, not everyone is happy to welcome this self-proclaimed fallen angel. Murmurs follow him and tensions rise, along with the temperatures as an unbearable heat wave rolls into town right along with him. As strange accidents start to occur, riled by the feverish heat, some in the town start to believe that Sal is exactly who he claims to be. While the Bliss family wrestles with their own personal demons, a fanatic drives the town to the brink of a catastrophe that will change this sleepy Ohio backwater forever.
----------------------------------------------------------------------------------------------------------------------------------------------------
There isn't enough human emotion in me right now to properly understand what
The Summer that Melted Everything
did to me. I feel like my innards are lying on the floor of the room I turned the last page in. I feel like I've been enveloped in a darkness so immense and all-consuming that I'd trade food for light, air for even a sliver of brightness. This novel holds you under water until you feel like your lungs might burst. I want to keep giving you metaphors, because I'm honestly not sure I can give you a proper review.
It was a hot summer:
"Particularly that June day in 1984, when the sky seemed to be made on the kitchen counter, the clouds scattering like spilled flour."
The sweltering Ohio town is a small one named Breathed (pronounced "breath-ed"), and little does it know, the town in which the Devil has been cordially invited. Autopsy Bliss sends out the invitation after a particularly discouraging situation at work, and the recipient is found standing near a tree by Autopsy's son, Fielding Bliss. Sal is thirteen-years-old, disheveled, scarcely clothed, and claiming to be the infamous Lucifer himself. When Fielding brings Sal home, there's an initial onslaught of confusion and disarray from the Bliss family and their neighbors. The people who matter welcome Sal with such wide arms, while the majority are immediately wary and unwilling to accept him. Is he merely a child? Or are the ensuing reckless incidents to be blamed on Sal's true nature as Satan?
Written in the most stunning and heart-wrenching poetic prose I have EVER experienced in my 30 years on this earth,
The Summer that Melted Everything
became the storyline to overshadow any other storyline that was happening simultaneously in my current reading life. It was relevant, it was so horribly and wonderfully relevant despite being set 32 years in the past. It was about one thing, and about so many things, at the same time. There were themes of racism, sexual orientation, abuse, acceptance, love, and so, so much hate. Every single theme existed in a deliriously spectacular unison, and Tiffany McDaniel's writing is my new favourite place to exist in.
Don't let the vibrant color and design of this novel fool you,
The Summer that Melted Everything
is not the book to fill your happy, sun-drenched days with, and it is most definitely not the novel to bring you out of the harrowing misery the world could impose on your soul. But if you don't experience the 320 pages of pure poetic misery that THIS novel will hand you, you will be doing yourself a serious injustice.
Recommended for Fans of:
Literary fiction, Dark themes, Gillian Flynn
.
Challenges:
Goodreads 50 Book Goal
--------------------------------------------------------------------------------------------------------------------------------------------------------------
credit: tiffanymcdaniel.com
An Ohio native, Tiffany McDaniel's writing is inspired by the rolling hills and buckeye woods of the land she knows. She is also a poet, playwright, screenwriter, and artist.

The Summer that Melted Everything

is her debut novel.





"Sometimes this world is like red fences in the snow. There ain't no hiding who we really are."

—THE SUMMER THAT MELTED EVERYTHING
---------------------------------------------------------------------------------------------------------------------------------------------------