Waiting on Wednesday is a book meme hosted by Jill over at Breaking the Spine
that spotlights upcoming releases that we're all eagerly anticipating.
Please follow the link to visit her site!
Title:
The Ocean at the End of the Lane
Release Date: June 18, 2013
Purchase:
Amazon
/
Indigo
/
Book Depository
Sussex, England. A middle-aged man returns to his childhood home to attend a funeral. Although the house he lived in is long gone, he is drawn to the farm at the end of the road, where, when he was seven, he encountered a most remarkable girl, Lettie Hempstock, and her mother and grandmother. He hasn't thought of Lettie in decades, and yet as he sits by the pond (a pond that she'd claimed was an ocean) behind the ramshackle old farmhouse, the unremembered past comes flooding back. And it is a past too strange, too frightening, too dangerous to have happened to anyone, let alone a small boy.

Forty years earlier, a man committed suicide in a stolen car at this farm at the end of the road. Like a fuse on a firework, his death lit a touchpaper and resonated in unimaginable ways. The darkness was unleashed, something scary and thoroughly incomprehensible to a little boy. And Lettie—magical, comforting, wise beyond her years—promised to protect him, no matter what.

A groundbreaking work from a master, The Ocean at the End of the Lane is told with a rare understanding of all that makes us human, and shows the power of stories to reveal and shelter us from the darkness inside and out. It is a stirring, terrifying, and elegiac fable as delicate as a butterfly's wing and as menacing as a knife in the dark.
----------------------------------------------------------------------------------------------------------------------------------------------------
I don't...exactly...remember how to BREATHE!...and I really haven't been able to since I found out that this book will exist as of next year. Ugh! Next YEAR!! Are you kidding me!? Part of me wishes that I didn't find out about it so soon. Just yet ANOTHER reason why the world CAN'T end on December 21st-I won't LET it!! I kid you NOT, I visit this book's Goodreads page at least twice a week..just to stare at it..somehow WILL it to be June 18, 2013...right..NOW. Doesn't work. But you better believe that I'll keep trying.
I could go on for a few paragraphs. I really and truly can. But I won't. Just know, my dear readers (if you don't already), that Neil Gaiman is pretty much my entire reason for reading. Or at least, he became that reason after I read my very first book by him, Neverwhere. If you haven't read that book...I'm not exactly sure why you're still here reading this..go READ IT!!! You will NOT regret it..I GUARANTEE it!! Okay..I'm calm..I swear.
This book sounds so deliciously Gaiman-there are NO other words needed for me to convince myself, or any other Gaiman fan out there to read this. Those of you who are as obsessed as I am will know exactly what I'm saying..how I'm FEELING..I'm sure breathing is a task for you right now as well. I will say no more...
----------------------------------------------------------------------------------------------------------------------------------------------------
-GIVEAWAY CLOSED-
Are YOU a Neil Gaiman Fan?
This giveaway is pretty much a must right now. I lay in bed last night thinking about how much I

need

the entire WORLD to know how amazing this author is, if you don't already know. So here's the plan: This giveaway will be for both new and long-time Gaiman fans. I'm offering you a choice of 1

of

2 books.
Click to Read Goodreads Page
For those new to him, I'm offering my favourite,

Neverwhere

. For long-time fans, I'm offering a pre-order of

The O

cean a

t the End of th

e La

ne

(Released June 18

/2013)

. OR, whichever one you want!

E

ither way..you're reading a Gaiman boo

k, and that makes me a HAPPY Reeka.
1. You must be following me via GFC, Linky or RSS
2. Open INTERNATIONALLY as long as The Book Depository ships to your country (check).
3. Choose either

Neverwhere

or The Ocean at the End of the Lane (this won't be shipped until the release date of June 18/2013).
4. Must be 16 years or older to enter.
5. Contest ends on November 30, 2012 at 12:00AM.
6. Winner will be announced via Twitter and/or email and will have 48 hours to respond.
So be sure to follow!
Add this button to your sidebar for more entries!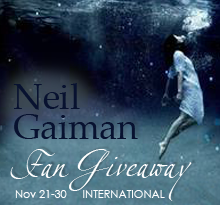 <a href="http://www.boundbywords.org/2012/11/waiting-on-wednesday-8-giveaway-ocean.html" target="_self"><img src="http://i986.photobucket.com/albums/ae343/rbboland/neilgmfngivwy.png" alt="BoundbyWords Book Blog & Reviews" width="205" height="220" /></a>