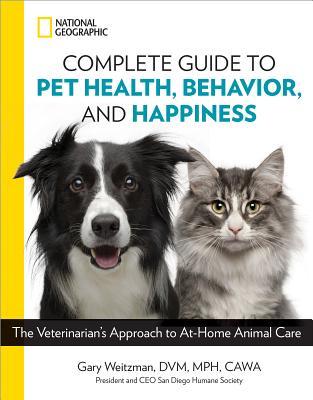 Title:
National Geographic Complete Guide to Pet Health, Behavior, and Happiness
Release Date: April 2, 2019
Acquired: Print copy received for review
In National Geographic's comprehensive and easy-to-use illustrated pet reference, a renowned veterinarian offers expert advice on common health, behavior, and training for cats, dogs, and other domestic pets.

Combining first aid, medical reference, and tips and tricks of the trade, here is your go-to-guide for at-home animal care, focusing on dogs, cats, rabbits, birds, and more! Building on more than two decades of veterinary experience, Dr. Gary Weitzman covers topics including upset stomachs, house training, physical ailments and behavior tips. The president and CEO of the San Diego Humane Society and former co-host of the weekly NPR show The Animal House, "Dr. Gary" brings a wealth of experience to essential veterinary questions, revealing basic first-aid techniques, when a trip to the vet is necessary, dietary recommendations, simple training techniques, necessary supplies, essential behavior cues, and much more.
This book came to me LITERALLY following an injury my 11-month-old kitten suffered. Poor thing got her paw caught in my bedroom door as I was closing it, and my entire world collapsed. The next day she was distant and ran to hide when I tried to pet her. I thought I had lost her trust forever, or worst yet, she was badly injured.
I was able to find the answers I was looking for (and a couple I didn't even know I was looking for) in this informative guide.
I have qualms though, but it's not the kind that comes from thinking the content is incorrect or lacking (I just haven't been a pet owner long enough to have really experienced many situations the book lists), but rather that I wish the book was sectioned by the pet. As it is, there are simply sections such as "Grooming" or "Behaviour", but then one must search to find their respective's pet information within those sections. It followed a formula of, "a little dog info, a little cat info, some more dog info". With that said, I also
feel like dog owners will benefit a lot more from this guide.
Overall, I'm a bit biased based on the fact that this guide really helped to ease the fear I felt about my poor kitten, and I look forward to consulting it in the future (though, hopefully for something more positive!).

credit: goodreads.com (author page)
Dr. Weitzman is president of the San Diego Humane Society and the former CEO of the Washington Animal Rescue League. During Dr. Weitzman's tenure at WARL, it became a recognized leader in physical and behavioral rehabilitation and a national resource for helping animals after natural disasters and puppy mill rescues. Dr. Weitzman is also a veteran of the U.S. Air Force and an expert in non-profit sector work and international public health. Weitzman is the author of several books including "How to Speak Dog: A Guide to Decoding Dog Language"