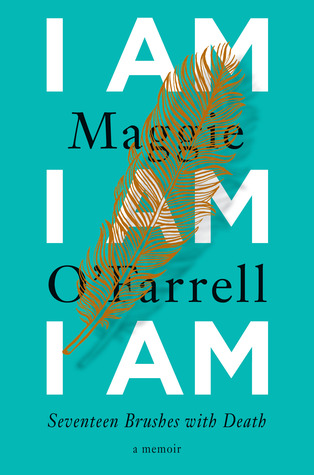 Title:
I Am, I Am, I Am
Release Date: February 6, 2018
Acquired: Print copy sent by publisher
We are never closer to life than when we brush up against the possibility of death.





I Am, I Am, I Am

is Maggie O'Farrell's astonishing memoir of the near-death experiences that have punctuated and defined her life. The childhood illness that left her bedridden for a year, which she was not expected to survive. A teenage yearning to escape that nearly ended in disaster. An encounter with a disturbed man on a remote path. And, most terrifying of all, an ongoing, daily struggle to protect her daughter--for whom this book was written--from a condition that leaves her unimaginably vulnerable to life's myriad dangers.





Seventeen discrete encounters with Maggie at different ages, in different locations, reveal a whole life in a series of tense, visceral snapshots. In taut prose that vibrates with electricity and restrained emotion, O'Farrell captures the perils running just beneath the surface, and illuminates the preciousness, beauty, and mysteries of life itself.
----------------------------------------------------------------------------------------------------------------------------------------------------
Here's what happens when you read a title of a book, here's what I still do all of these reading years later: I judge. I form preconceived notions. I read the title of this memoir and I expected each story to be told essay-style, to simply be the how, when and where of each event. What I didn't expect was the incredibly and breathtakingly poetic depiction of fear, of trauma, and of a single life coming close to it's final seconds multiple times over.
Maggie O'Farrell isn't a thrill seeker, by any traditional sense of the title. She was diagnosed, at a very young age, with a viral infection that dictated the way she would function for the rest of her life. Because of this, life for Maggie became days that involved pushing the envelope, just a little bit more than others would. Thus the reason(s) for this book was born. In I
Am I Am I Am: Seventeen Brushes with Death
, Maggie recounts 17 (well, technically 16) moments in her existence (so far), that have almost ended in her demise. Not every single memory was a level 10 on the danger scale, but nonetheless deserving of a spot in this memoir. I thought the added touch of beginning each new story with the name (and visual) of the body part affected within was fantastically creative.
Literally all I thought about while reading this book was how immediately I could get my hands on Maggie's fiction. I thought to myself, "if her non-fiction, her REAL LIFE, can tear open my heart and spill it's entire contents, I cannot even begin to
fathom
what her fiction will do to me".
I Am I Am I Am
was written with an intent to pierce, it was written with a hand that felt every emotion so viscerally that it would have been an injustice to deliver it to readers using anything BUT a beautifully lyrical prose.
I couldn't stop reading about Maggie's life, I couldn't find enough emotion in me to express the disbelief, the awe, and the eventual relief that she survived. That she's still surviving despite the universe's every attempt to make it not so. I Am I Am I Am will change the moments you spend reflecting on your life, and it will definitely change the way you start living it going forward.
Read if you liked:
Breathe: A Memoir of Motherhood, Grief, and Family Conflict
by Kelly Kittell
fiction by Jodi Picoult, Kelly Braffet, or Lisa O'Donnell
Key themes:
loss, family, near-death experiences, trauma, health
------------------------------------------------------------------------------------------------------------------------------------------------

credit: goodreads.com (author page)
Maggie O'Farrell is the author of seven novels,

After You'd Gone

,

My Lover's Lover

,

The Distance Between Us

, which won a Somerset Maugham Award,

The Vanishing Act of Esme Lennox

,

The Hand that First Held Mine

, which won the 2010 Costa Novel Award, Instructions for a Heatwave, which was shortlisted for the 2013 Costa Novel Award,

This Must Be The Place

and

I Am I Am I Am

. She lives in Edinburgh.
----------------------------------------------------------------------------------------------------------------------------------------------------