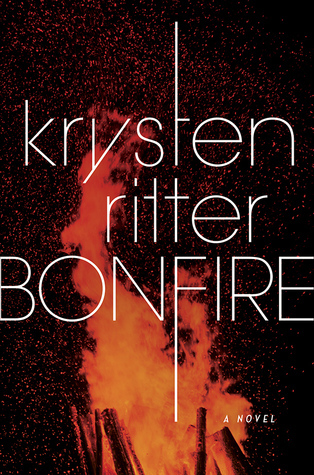 Title:
Bonfire
Release Date: November 7, 2017
Acquired: Print copy sent by publisher
Should you ever go back?

It has been ten years since Abby Williams left home and scrubbed away all visible evidence of her small town roots. Now working as an environmental lawyer in Chicago, she has a thriving career, a modern apartment, and her pick of meaningless one-night stands.

But when a new case takes her back home to Barrens, Indiana, the life Abby painstakingly created begins to crack. Tasked with investigating Optimal Plastics, the town's most high-profile company and economic heart, Abby begins to find strange connections to Barrens' biggest scandal from more than a decade ago involving the popular Kaycee Mitchell and her closest friends—just before Kaycee disappeared for good.

Abby knows the key to solving any case lies in the weak spots, the unanswered questions. But as Abby tries to find out what really happened to Kaycee, she unearths an even more disturbing secret—a ritual called "The Game," which will threaten the reputations, and lives, of the community and risk exposing a darkness that may consume her.

With tantalizing twists, slow-burning suspense, and a remote, rural town of just five claustrophobic miles, Bonfire is a dark exploration of the question: can you ever outrun your past?
----------------------------------------------------------------------------------------------------------------------------------------------------
Ah, the good ol' actor turned author bit. I'd like to say I have more books of it's kind to compare it to, but Bonfire was my first foray into this type of work, so all I have left are genres. This narrative is being sold as a psychological thriller and while it definitely delivered the thriller portion, it failed somewhat in the brain toying department.

You've read it before: small town, looming "big-deal" corporations, secrets wrapped in smiles, and the return of someone who "made it out". Abagail Williams thought she had washed her hands of hometown Barrens, but her job brings her right back into the center of its irregularly beating heart. Her target of investigation: Optimal Plastics, the towns seemingly top provider of wealth, happiness, and, if Abagail can prove it, a series of health issues plaguing Barrens residents. But this wasn't just a storyline to sate the minds of environmental buffs, no, it was a catalyst you see, for much darker scandals and truths untold. We follow our main lead down an unexpectedly disturbing rabbit hole and come back up wondering when Krysten Ritter will start working on her next novel.
Reading this was like finding out your car is actually a transformer, but it was just biding its time before it unveiled its MASSIVE upgrade. Like many others, I know Krysten Ritter, the actor, not Krysten Ritter, the seemingly seasoned thriller author. Needless to say, I was consistently surprised with every chapter I read. I know she writes for TV, so this wasn't a far cry, but STILL, novels can be a whole separate beast, and readers, an entirely different breed of humans to please. But pleased I was, with the fast pace of the narrative, and the cliff-hangers at every chapter end. There was enough intrigue to ensure that this book was read in two days, and JUST enough character development to make it believable.
Here's hoping that Bonfire still finds its way to prime time television *fingers crossed*.
Read if you liked:
The Child Finder
by Rene Denfeld
Dark Places
by Gillian Flynn
The Girl Before
by Rena Olsen
Key themes:
corruption, scandal, betrayal, corporate greed, friendship
------------------------------------------------------------------------------------------------------------------------------------------------

credit: goodreads.com (author page)
KRYSTEN RITTER is well known for her starring roles in the

award winning

Netflix original series, Marvel's Jessica Jones, and cult favorite, Don't Trust the B---- in Apartment 23, as well as her pivotal role on AMC's Breaking Bad. Krysten's work on film includes Big Eyes, Listen Up Philip, Life Happens, Confessions of a Shopaholic and She's Out of My League.

She is the founder of Silent Machine, a production company which aims to highlight complex female protagonists. Ritter and her dog Mikey split their time between New York and Los Angeles.



----------------------------------------------------------------------------------------------------------------------------------------------------