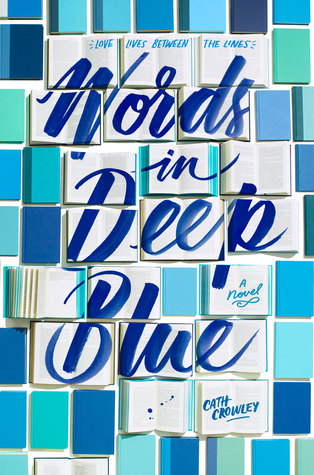 Title:
Words in Deep Blue
Release Date: June 6, 2017
Acquired: Print copy sent by publisher
Love lives between the lines.

Years ago, Rachel had a crush on Henry Jones. The day before she moved away, she tucked a love letter into his favorite book in his family's bookshop. She waited. But Henry never came.

Now Rachel has returned to the city—and to the bookshop—to work alongside the boy she'd rather not see, if at all possible, for the rest of her life. But Rachel needs the distraction and the escape. Her brother drowned months ago, and she can't feel anything anymore. She can't see her future.

Henry's future isn't looking too promising, either. His girlfriend dumped him. The bookstore is slipping away. And his family is breaking apart.

As Henry and Rachel work side by side—surrounded by books, watching love stories unfold, exchanging letters between the pages—they find hope in each other. Because life may be uncontrollable, even unbearable sometimes. But it's possible that words, and love, and second chances are enough.
----------------------------------------------------------------------------------------------------------------------------------------------------
Words in Deep Blue

was essentially a book about a bookstore owned by people who love books. Seriously. Do you need more reason than that to pick up this novel? I'll just end the review here. Ok, thanks for stopping by.
No, but honestly though, this narrative might as well have been birthed in my own brain. I feel like I've had dreams of being these exact characters, standing in those exact aisles of a bookshop, reading the exact same books and feeling the
exact
same feelings. It was the added theme of grief and the authenticity of the personalities that stopped it from being another typical "young adult love story". It was the obvious and genuine care put into making sure each sentence had an impact, that each moment held meaning.
Rachel has come back to her childhood hometown, with a heart that's wracked with pain after the loss of a brother, and filled with resentment for a boy who didn't love her back.
Henry is the boy. Whose own heart is severely attached to a girl who would rather be without him, and who hasn't the slightest clue why his best friend Rachel skipped town without a goodbye.
It's the anticipation of these two storylines colliding that make
Words in Deep Blue
a read that you literally cannot stop reading. Cath Crowley created the most unique details, including a section in Henry's family-owned bookshop called the "Letter Library", where strangers can leave notes for each other within the pages of a selected book. The books are not for purchase, and they cannot be moved. It was the most romantic notion and the aspect that played a huge role in my tearful breakdown towards the end of the novel.
If you're into narratives that feature characters who you would befriend in real life, issues that almost mirror your own, and scenes that will leave you a sobbing mess, then this book should 100% be on your to-read list.
Read if you liked:
The Dress Shop of Dreams
by Menna van Praag,
The Storied Life of A.J. Fikry
by Gabrielle Zevin, or
The Fault in Our Stars
by John Green
.
Key themes:
loss, grief, family, friendship, and love
------------------------------------------------------------------------------------------------------------------------------------------------
credit: cathcrowleyauthor.com
Cath Crowley is an award-winning author of young adult fiction. Her novels include Words in Deep Blue, Graffiti Moon, Chasing Charlie Duskin (A Little Wanting Song) and the Gracie Faltrain trilogy and Rosie Staples' Magical Misunderstanding.

Awards include The Prime Minister's Literary Award (2011), The Ethel Turner Prize for Young Adult Literature (2011), Winner of the Indie Book Awards (2017), YALSA Best Fiction for Young Adults List (2013), Cooperative Children's Book Centre (CCBC) Recommended Book.

Cath is also a freelance writer, editor, and teacher.
----------------------------------------------------------------------------------------------------------------------------------------------------