Release Date: September 29/2015
Acquired: Print copy sent by publisher
Whose secrets cut deeper? Your family's.

Whose secrets do you fear? Your neighbor's.

Whose secrets can kill? Your own.

For Alex Mercer, his wife, Millicent, and their precocious eleven-year-old son, Max, are everything—his little tribe that makes him feel all's right with the world. But when he and Max find their enigmatic next-door neighbor dead in his apartment, their lives are suddenly and irrevocably changed. The police begin an extremely methodical investigation, and Alex becomes increasingly impatient for them to finish. After all, it was so clearly a suicide.

As new information is uncovered, troubling questions arise—questions that begin to throw suspicion on Alex, Millicent, and even Max. Each of them has secrets it seems. And each has something to hide.

With the walls of their perfect little world closing in on them day after day, husband, wife, and son must decide how far they'll go to protect themselves—and their family—from investigators carefully watching their every move . . . waiting for one of them to make a mistake.

A Line of Blood explores what it means to be a family—the ties that bind us, and the lies that can destroy us if we're not careful. Highly provocative, intensely twisty and suspenseful, this novel will have you wondering if one of them is guilty—or if all of them are—and will keep you on edge until its shocking final pages.

You will never look at your loved ones the same way again. . . .
-------------------------------------------------------------------------------------------------------------------------------
What a metaphorical roller coaster of a book, and while I do enjoy me some great metaphors, AND roller coasters, I had a hard time appreciating this book for it's tone and style. Ben McPherson chose to highlight the emotional and mental state of trauma in
A Line of Blood
. The details of betrayal and death, background noise to the poetic and foggy dialogue. I like my mysteries a lot less about human discord, and more about fact finding and analyzing. Nevertheless, the narrative held my attention, in that "I could care less for the characters, but I need to know how this turns out" kind of way.
It begins with death. Alex and his son Max make their way through the neighbours house in search of their cat, only to find said neighbour in a very compromising state of dead. What at first glance seems like a suicide, the story continues in the obvious way, with a suspicion of murder instead, a new suspect every few chapters, and a million questions that not everyone involved wants answers to. Who had the most to lose? To gain? To be angry enough about, or regretful for? Through a slow progression, Alex Mercer plays victim to his own mind, and to the minds of two people he mistakenly thought he knew best.
A Line of Blood
was comprised of infuriating dialogue that attempted to answer questions with more questions. Where characters were in a constant competition of "who can beat around the bush the longest?".The narrative was void of any direct feeling, or thought, or realistic reaction-I wanted to throttle someone, or at least ask if they were even human. The subject matter itself, however, was brilliant, big screen worthy even. The very idea of the event sequence made reading until the end worth it. I suppressed skipping to the end to find out who's mind was disturbed enough to commit such a heinous act, and who's heart would be broken the most by the discovery. When the end finally came, I never could have predicted that the outcome would be so disturbing, the culprit so unashamed of their act.
McPherson's writing was unapologetic, but left so much to be desired in the way of facts and reason.
A Line in Blood
was too much drama, and too little mystery for my taste, but overall, a good fiction debut for the author.
Recommended for Fans of:
Mystery, Suspense Contemporary, Drama,
Gone Girl
by Gillian Flynn.
-------------------------------------------------------------------------------------------------------------------------------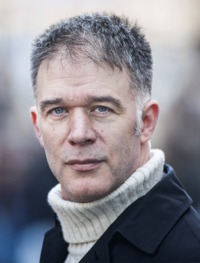 Ben McPherson is a television producer, director, and writer and for more than ten years worked for the BBC, among other outlets. He is currently a columnist for Aftenposten, Norway's leading quality daily, and lives in Oslo with his wife and two children.
-------------------------------------------------------------------------------------------------------------------------------
Thank-you to
Trish at TLCBlogTours, and William Morrow for sending
me
a print copy to read.
Click Here
to follow the rest of the tour!