Release Date: April 8/2014
Acquired: Print copy sent by publisher
Interns are invisible. That's the mantra behind HR, Inc., an elite "placement agency" that doubles as a network of assassins-for-hire, taking down high-profile executives who wouldn't be able to remember an intern's name if their lives depended on it.

At the ripe old age of twenty-five, John Lago is already New York City's most successful hit man. He's also an intern at a prestigious Manhattan law firm, clocking eighty hours a week getting coffee, answering phones, and doing all the grunt work no one else wants to do. But he isn't trying to claw his way to the top of the corporate food chain. He was hired to assassinate one of the firm's heavily guarded partners. His internship is the perfect cover, enabling him to gather intel and gain access in order to pull off a clean, untraceable hit.

The Intern's Handbook is John Lago's unofficial survival guide for new recruits at HR, Inc. (Rule #4: "Learn how to make the perfect cup of coffee: you make an exec the best coffee he's ever had, and he will make sure you're at his desk every morning for a repeat performance. That's repetitive exposure, which begets access and trust. 44% of my kills came from my superior coffee-making abilities.")

Part confessional, part how-to, the handbook chronicles John's final assignment, a twisted thrill ride in which he is pitted against the toughest—and sexiest—adversary he's ever faced: Alice, an FBI agent assigned to take down the same law partner he's been assigned to kill.
-------------------------------------------------------------------------------------------------------------------------------
I will keep the beautiful Dave Franco in mind as I write this review. Right. Good. Now then.....
Soon to be starring as John Lago in the
The Intern's Handbook movie!
The Intern's Handbook
was not a feat in mind-numbingly good literature, but I'll be lying if I said I didn't enjoy every last flying kick, and smash over the head. John Lago was the type of bad-ass, anti-hero, that everyone loves to idolize. Every single character in this narrative was written to showcase their moves on the big screen, especially Lago himself. As excited as I was to turn the page, and find out what compromising position the assassin had gotten himself into next, I couldn't help thinking that
The Intern's Handbook
read more like a script than a novel. Kuhn was heavy handed with the descriptive action scenes, so much so that I felt like the emotion got lost along the way. I couldn't get a full grasp on any one character, it was all straight punches and bleeding orifices. I craved coherence, or at the very least, a dialogue scene that didn't immediately end in a casualty
. I wanted a background story! I would definitely would have also appreciated chapters from other character's points of view.
The Mr. and Mrs. Smith romp in this novel was as cliche as cliche could possibly get, but that's not to say I didn't find myself swooning at moments that warranted them. Lago had the ability to surprise me, both in affairs of the mind, AND the heart. He was witty, and insufferable, and the only man you would want to hire to get the job done right.
The Intern's Handbook
was non-stop action, and I absolutely cannot wait to see it come alive!
Recommended for Fans of:
Thriller, Action, Espionage,
The Bourne Series
by Robert Ludlum, John Le Carre.
-------------------------------------------------------------------------------------------------------------------------------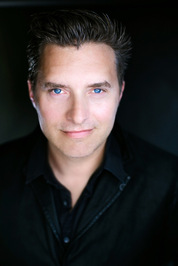 Shane Kuhn is a writer and filmmaker with twenty years of experience working in the entertainment business and the ad world. In feature film, he has writing credits with Universal, Paramount, Sony, and Fox, and a writing and directing credit with Lionsgate. In the world of independent film, he is one of the four original founders of the Slamdance Film Festival and currently serves as an Executive Board member of Slamdance, Inc. A shameless product pusher in the ad world, he has worked as a copywriter, creative director, and broadcast video director and producer for several notable brands and charitable organizations.

As a college baseball player, he threw a fastball in the low 90s but his career was cut short by a Bull Durham strike zone. The Intern's Handbook is his first novel. He lives with his wife and family in a bi-coastal/mountain migration pattern that includes Massachusetts, Colorado, Los Angeles, and San Francisco.
-------------------------------------------------------------------------------------------------------------------------------