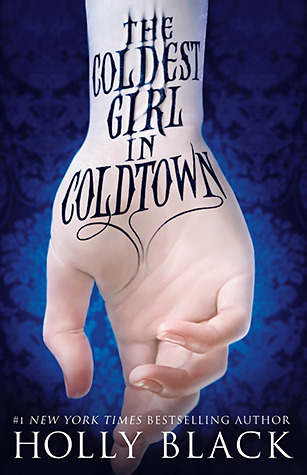 Tana lives in a world where walled cities called Coldtowns exist. In them, quarantined monsters and humans mingle in a decadently bloody mix of predator and prey. The only problem is, once you pass through Coldtown's gates, you can never leave.





One morning, after a perfectly ordinary party, Tana wakes up surrounded by corpses. The only other survivors of this massacre are her exasperatingly endearing ex-boyfriend, infected and on the edge, and a mysterious boy burdened with a terrible secret. Shaken and determined, Tana enters a race against the clock to save the three of them the only way she knows how: by going straight to the wicked, opulent heart of Coldtown itself.





The Coldest Girl in Coldtown

is a wholly original story of rage and revenge, of guilt and horror, and of love and loathing from bestselling and acclaimed author Holly Black.
----------------------------------------------------------------------------------------------------------------------------------------------------
I can't fault Holly Black, she's one of my constants. Her books are a guaranteed FEEL, right in the heart. That's why I was disappointed to find that as I read
The Coldest Girl in Coldtown
, my insides weren't reacting the way they usually do. What a bloody fantastic intro though, probably one of my favourites to date, it had the makings of something fantastically chilling. Sadly, lukewarm was what was actually delivered. Lukewarm with a side of foreboding, and cliches.
To paint a more elaborate picture of the first chapter: picture an old country home, and a perfect summer night. There's a party that's not to be missed happening inside, and almost everyone you know is in attendance. The illegal consumption of alcohol, the promiscuity, the rational fear of vampires breaking into the house and draining you of all of your blood..wait, what?
There apparently hasn't been a vampire attack in Tana's small town for five years now, but the night after a party at her friend's home, she wakes up in the bathtub and stumbles out to find every, single, person, DEAD
. As a reader, I think I began hyperventilating before she did, and I continued that way long after she had abruptly stopped. I reiterate, there hasn't been an attack in FIVE years, I felt like this scene should have reflected that better. She finds two survivors in a bedroom, one not dead (and who conveniently happens to be her ex), and one, the undead. She then proceeds to partake on a lovely road trip with said ex, and a very dangerous vampire. My brain wasn't prepared for this almost instantaneous switch in the narrative. I couldn't understand why Tana was so suddenly nonchalant about what she just witnessed, and why irrationality was the first personality trait the author ingrained of her. From here on out, it's simply bad decision, after bad decision, after worse decision.
I couldn't develop a camaraderie with any one particular character, and the setting felt incomplete. I felt like once the characters arrived at Coldtown, the world grew infinitely smaller, and they were existing within a movie set, as opposed to what was once a big TOWN. There were small moments when I felt like maybe the narrative would open up, particularly with the introduction of a transgender character. Such wasn't the case however, as it was only quickly mentioned, and then left behind.
I appreciated this piece of work for what it was, and I think it was an attempt on the author's part to try her hand at vampires, and also include the type of diversity in characters that many, many fiction books are lacking. I couldn't find a real story in
The Coldest Girl in Coldtown
, but the writing itself was still Holly Black spectacular. She's still at the top part of my list, and there she will remain.
Recommended for fans of:
Twilight
(in terms in love triangles, anyway), Paranormal, LGBT, Horror, Homages to Anne Rice.
----------------------------------------------------------------------------------------------------------------------------------------------------