Release Date: November 3/2015
Acquired: E-copy copy sent by publisher
A searing erotic thriller perfect for those tantalized by A.R. Torre's Deanna Madden series.





Anything you can imagine. Everything you crave. For the members of

The Raven Room

, it's every fantasy fulfilled. But for some, that desire is a matter of life and death.





Drawn by needs he cannot control, Julian ventures to

The Raven Room

, a secret and exclusive sex club in the underbelly of Chicago. It goes beyond sex. It goes beyond kink.

The Raven Room

is the only place where Julian finds release from the dangerous urges that threaten to destroy the successful life he's worked so hard to build.





When the police link

The Raven Room

to the death of a young woman, it threatens to expose a number of powerful people—people who would kill to stay anonymous...





Meredith's body can't get enough of Julian. He has opened her sexual horizons to tempting new possibilities. But out of bed she's an aspiring journalist, and

The Raven Room

is the story she's been looking for. By writing an exposé on the club and its elite clientele, she plans to launch her career.





As Meredith embarks on a sexual journey into the forbidden world that Julian inhabits, questions emerge, and dark appetites threaten to swallow her whole. How much can she trust the man who has laid bare her erotic nature and how much will she sacrifice in order to protect him?
-------------------------------------------------------------------------------------------------------------------------------
Well. THAT escalated quickly. Listen, this was my first foray into erotica, so I do request that you excuse my flubbering.
The Raven Room
was chock full of compromising positions, literally, but the storyline was what kept me reading well past what I was comfortable with. Ana Medeiros wrote to shock, but she also wrote to intrigue
.
There was a sense of foreboding that was well maintained throughout the entire narrative; an undeniable fear behind the scenes. The characters were not well-rounded, by any means, and their back stories left so much to be desired, but that can be forgiven due to first book syndrome. It was a narrative propelled by the growing mystery surrounding an exclusive, members-only sex club by the name of, you guessed it, The Raven Room. Our main character is a frequent participate in the nightly activities offered at the club, and during a particularly dull night-by his standards-Julian becomes intensely intrigued by a willowy female member. What unfolds is a flurry of carnal desire, acted upon and lusted over, and a background murder mystery that makes it's way to the forefront, in a VERY big way, at the conclusion of the book.
I was enthralled, and that fact absolutely floored me because I was SO out of my comfort zone while reading
The Raven Room
. During some particularly taboo moments, I had to physically put the book down, and take a few deep, cleansing, mind-calming breathes. There are definitely some darker scenes woven into this storyline, and at times you will find yourself wondering when the questions will stop, and the answers begin, but take this for what it was: an erotic thriller with a mystery element. Nothing profound, but you will stay engaged, I can guarantee that.
Here's to hoping I can stop shielding my eyes through the sexy-time scenes long enough to get through the second, and third book. The conclusion of
The Raven Room
was cliffhanger of the CENTURY.
Recommended for Fans of:
Fifty Shades of Grey, Erotica, Thriller, Mystery
.
-------------------------------------------------------------------------------------------------------------------------------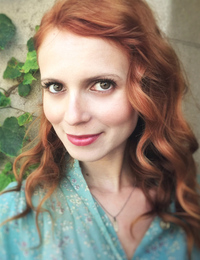 Born in the Azores islands, Portugal, Ana Medeiros has a background in Photography, Sociology and Psychology. For the last seven years she has worked in the magazine industry. She currently lives in Toronto, Canada, with her boyfriend and two cats.

The Raven Room

, book one of a trilogy, is Ana's first novel and is published by Diversion Books.
-------------------------------------------------------------------------------------------------------------------------------